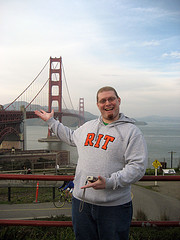 Ya know what? California is pretty great. And this assessment is in no way swayed by the five days that I've had nothing to do but hang out with Ryan and Sarah.
San Francisco was pretty neat, but not what I expected (but I honestly don't even remember what I WAS expecting). We went and saw the Golden Gate Bridge, drove down Lombard St, wandered around the Financial District (give or take), picked up some CDs at Rasputin, walked around Fisherman's Wharf, and had dinner at Zushi Puzzle (which, despite their website, was a very cool place, and pretty delicious too). We spent the night at Marriott, then drove back to Campbell for the Super Bowl.
I didn't do much on Monday, and I even felt a little guilty until I remembered, hey, I'm on vacation! Screw it! Yesterday, I ventured out into downtown Campbell and found a nice coffee shop with free wifi, and I might go back there this afternoon if I'm feeling better.
Oh, I didn't tell you about that part? We went to Chicken University for wings last night, and I can only assume that they're the reason I have such an upset stomach this morning. I was planning to go back up into the city for the day. Ryan was going to drop me off at the train station on his way into work, but - well, I'll spare you the details, but I really don't feel like walking around downtown all day. Unless things take a turn for the worse, I'll be heading up there tomorrow instead.
So yes, vacation is lovely and relaxing and I suggest you all try it just as soon as you can. I've got a few more people to see while I'm here, and then a Friday-night red-eye - with a four hour layover in Atlanta (fun!) - to get back to DC. These things never seem to last long enough.