Ice Fights and Load-Bearing Dinosaurs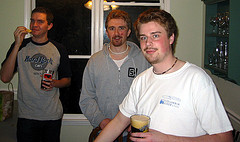 This past week marked the 25th birthday of the illustrious Mr. Lee, so he decided to have a weekend-long shindig down at his place near Raleigh. I almost didn't make it - he called me Wednesday night about it, leaving me little time to make plans (bastard), but Schmitty, Aubri, Kidder and I drove down after work Friday. We met Rhubarb and Becky - and of course, Dan and Darrin - there, and had the bitchenest weekend I've had in…well, in two weeks (to be fair, the Meteor Shower Party was just last month, so it's been a pretty good season already).
We didn't get there until after 11, but we made up for it by drinking until about 5:30 in the morning. I had forgotten how incredibly ridiculous those guys can be, and I'm not sure I've ever laughed that much in one night. Saturday brought Raleigh-style garbage plates (so-so), some lounge-around recovery time, and then more people and beer pong around 6 in the evening.
I had been looking forward to a quiet, relaxing weekend, and almost didn't go. I'd had a rough week at work (particularly Friday) and two eventful weekends before, so I was pretty run-down and pissy by the time we left Friday. I couldn't have been more relaxed this morning, though - a weekend with those guys was just what I needed. Dan and Darrin are incredibly gracious hosts, and for some reason I kind of love their house (and sort of want to move there). We had an absolute blast, and no amount of relaxing at home would have been as refreshing. I don't get that many opportunities for spur-of-the-moment weekend road trips anymore, but I'm convinced that they need to happen more often.