Cross Country Road Trip 2007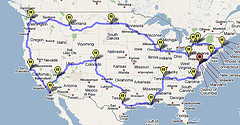 Obviously, East Coast Bike Tour 2006 isn't going to happen in the next two weeks. But! I can plan for the coming year, can't I? As such, I've made bigger and better and more awesome plans for next year's road trip. This means, of course, that I need to find me a bike with saddle bags sometime in the next eight months or so, except I don't have any money.
Donations always accepted, of course.