Shit, These Guys Have Class!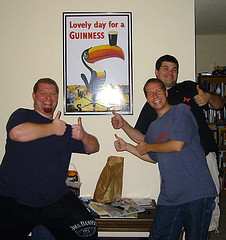 So, we've only been living here at Brockstone Manor for a little less than six months. As such, it's no surprise that we have nothing in the way of decorations (except for that thong on the dining room chandelier) and there are still a few unpacked boxes kicking around.
However! My brother was made aware of our dire situation, and for my birthday, sent me the classiest of Guinness posters. Tonight, it was framed and hung, and now, Brockstone Manor is truly a classy, swinging bachelor pad. It made such a difference that we've started discussing house plants.
Click on the picture to see just how awesome we are.