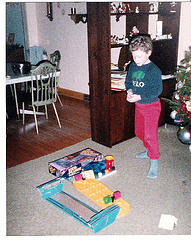 For at least a few years now, I've had a designated water cup. I use it all day when I'm home, and I put it next to my bed at night, because I tend to wake up thirsty a lot.
Until this evening, I was using a green cup exclusively for water. I don't know where I got the cup, but I know it was the first one I managed to dig out when I moved into my old place a year ago, so it became the water cup. I was drying it earlier and it cracked, so I tossed in the trash. And then I kind of felt bad, because I assign disproportionate importance to insignificant objects, because hey, how much has changed in the last year? But my cup? My cup has been my rock. My rock that I filled with Brita water a half-dozen times a day.
Really, this is just my way of saying that the red Teenage Mutant Ninja Turtles mug of my youth is back in the game. In the sixteen years we've been together, it's never let me down, even when I lost the lid. I even left it at home when I went to college, and it survived until I could re-claim it the last time I was home. Don't let me down, TMNT.
Also, weekend was wicked awesome, more on that later, pics on flickr.