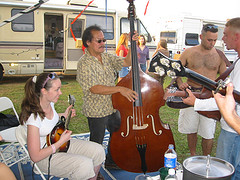 This was the best festival I've been to yet. The Grillbillie turnout was lower than usual, and there were definitely folks I missed, but there were also a lot of people that I was really hoping to see. And I got to spend a lot of time with everyone, too - everybody pretty much stuck around Grillbillie Hall.
Adam bought himself a new camper over in Delaware, and literally picked it up on his way to the festival. When he pulled in, we filled the place with people (and a tree) and did some exploring. The guy who sold it to him left everything in it (dishes, bedding, cleaning stuff - everything), and since Adam had bought the thing just two hours before, he never got a chance to clean it out or figure out where things were before we got our hands on it (FN did manage to find himself his own room).
On Saturday afternoon, Amy sent me a text message from the other end of the camper - "I deem you a official grillbillie."
"Can you even do that?" I yelled back to her.
"Of course I can, I'm an original. Go see what Matt says."
So I showed Matt the message, and he goes, "I thought you WERE official. You're not going to fit into an extra large, are you?"
So I don't have a t-shirt yet, but three years after the festival where I first met them, I've become an official Grillbillie. Definitely my best festival yet.