Life Is Good (or, The RIT Hostel formerly known as Brockstone Manor)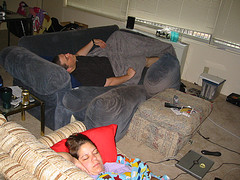 Our place has been a flophouse lately. Matt stayed here for a few days when he broke his car (again), and then for a couple days after. Sharon has been here since Sunday, and since Jym was off most of the week, they hung out and went to art galleries and such. BP showed up last night, and Rhubarb is here for the night. Toss in the other four people that were here this evening, and it gets kinda crowded.
It's like living in the dorms again, except with more room and we don't have to hide our beer.