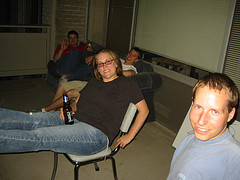 Now that we've been in the new place for almost a week, I'm finally settled in enough to post about it.
The long and short is that it's totally bitchin.
This place is orders of magnitude above my last place. The living room and bedrooms are huge, the balcony is great, and the location really couldn't be better. There are still a few lingering boxes of crap lying around, but aside from that, we've got all our stuff put away, and we almost need to buy a bigger entertainment center for our combined collection of electronics.
It's been a busy week, but people have been here visiting a lot and a bunch of us went and played paintball all day yesterday. This week should quiet down, and we'll start falling into our groove. FN met us at the paintball place yesterday to pick up my car (with, as it turned out, Fotios' wallet in it), so I'm car-less again.
This is going to be good. We've already got plans for a poker game and some house guests. The couch isn't on the balcony anymore, but we're talking about replacing it. It will be a good summer.