Obligatory 'My, the time flies' Post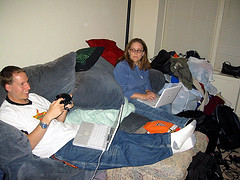 I've been in Virginia for just a week shy of six months. It certainly doesn't seem like it's been that long, but at the same time, it feels like a lifetime since I left RIT. DC has been good to me - it's nice living in a real city - even if I haven't met as many new people as I'd hoped to. Thankfully, I had quite a few friends down here already, which made the move down a lot easier.
As I've mentioned in passing, I'll be moving really soon. Jym, Fotios and I will be taking up residence in the Crystal Plaza in Crystal City. It's less than 5 miles from my current place, but it's a totally different neighborhood. The place I'm at now isn't too bad, but it's certainly not good. We'll be on the 9th floor of a much nicer building with some really nice facilities - pool, balcony (overlooking said pool), billiards room, two laundry rooms, two fitness rooms, and a little coffee shop, among other things. It's also connected to the Crystal City Underground, which is basically an 8-block long underground strip mall, with all sorts of restaurants, shops, and even a couple doctors and dentists. Within 3 blocks, there are a few more coffee shops, the Metro stop, at least one bar, a liquor store, and much to Jym's delight, there's a McDonald's practically under our building.
We'll be moving next week Tuesday, right after I spend the weekend visiting family and friends in Buffalo and Rochester for Commencement/Memorial Day (and no, I won't be walking). I started packing up some books and stuff today, because I want to have most of my crap ready to go before I leave Friday. I'll be back here Monday around noon, then I'm taking a half day Tuesday so I can move in the afternoon.
It's going to be a hectic couple of weeks, and I'm already looking forward to being done with it. As it is, the living room is full of Jym's crap, since he moved in last Sunday, and the entire kitchen and bathroom cabinets are in boxes - I had to empty everything out when pest control visited our building early this month, and never bothered putting it back.
I hate feeling like my world is in disarray, with my stuff in boxes and crap in every corner, but it's much better than the last time I moved; at least I know where I'm going, when, and more or less how I'm going to do it (UHaul, duh). I just look forward to being through with it. When all is said and done, my stuff will be in a much nicer place for at least the next year, and my car will be in the capable hands of FN (who needs it much more than I will, sinec I'll be so close to the metro and a mere 8 blocks from work).
Oh, and our place has grills near the pool, and people will be visiting throughout the summer, and I'm going to make it to a couple bluegrass festivals. This summer is sure to rival last year's.