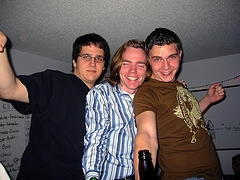 This past Friday was the last day of finals, Convocation, and the beginning of Commencement.
Not that I had anything to do with any of that, but it's a chronological landmark.
It's been the busiest week I think I've had all quarter, with parties, moving people in and out, cleaning and rearranging the apartment, and trying to spend time with people before they take of for the summer or, in some cases, forever.
Friday night was the End Of The Year Bonanza party, which was a blast [pictures]. A lot of people showed up, we almost broke even, and we had a fair bit of leftover alcohol (and one hell of a mess) when all was said and done. Brie moved out and BP moved in Saturday. Today, Kidder moved out and we did a ton of cleaning and moving around in the apartment. We're borrowing Sharon's TV for the summer, so we moved the living room around to accommodate that and to open it up a bit. The audio on the coax jack is messed up, so we need to find a cheap VCR so we can plug the VCR into the wall and run RCA to the TV. We've also got a new DVD rack (a dumpster diving find) and Jym's stereo system. He'll be moving in late tonight and part of tomorrow. Today was also Gillian's graduation BBQ, featuring the most incredible grill I've ever seen. It was a relaxing afternoon, and I learned how to play croquet.
I'm really hoping things will calm down by Tuesday, once everyone is moved in and settled. The apartment is still a disaster - we've done a lot of cleaning, including throwing out half of the shit in the fridge. We started going through all the crap in the pantry, but got as far as covering the kitchen counter with stuff before we got tired of it; another project for tomorrow. Our bathroom still needs cleaning and some more electronics need to get setup in the living room, but things are coming together. I like the idea of a fresh start for summer - it's nice to have space in the fridge, to have a new layout in the living room, and for stuff to be clean for a little while.
Summer is going to be great, especially if I can make more time to sleep.