Cinco de Mayo Sin Los Pantalones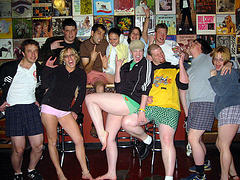 I'm a couple days behind with this, but Thursday was Cinco de Mayo and Friday was No Pants Day. We had a small-ish shindig here for Cinco de Mayo, with made a nice segue into No Pants Day at midnight since we were mostly drunk by then. We messaged pretty much everyone around midnight and told them to meet at the Sentinel for a big no pants group picture, and the Fizzle-Oh crew joined us. Then we rode the Tiger. Then we went into Java Wally's, where we ran into RJ. It was a fun night. There are more pictures on Flickr.
Today was the CSH graduation party - it's fun to reminisce. Toga is tonight, but I'm beat, so I'm not going. Plus, I'm going home first thing in the morning to surprise my mom for Mother's Day. I told my dad I wasn't coming home and he's pretty pissed - I'm afraid he might be MORE pissed when I show up after telling him I wouldn't than he would be if I just wasn't home for it, but I'll risk it.
I love books, and I'm finally making a conscious effort to make more time for reading. Today, Ruminations on College Life, Never Threaten to Eat Your Co-Workers: Best of Blogs, and Student Body Shots: A Sarcastic Look at the Best 4-6 Years of Your Life came in today. Ruminations on Twentysomething Life should be here in a couple days (it was shipped separately). They're all light reads and pretty thin - I've got plenty of heavy-duty books I haven't gotten to yet, so I figured these would make nice in-betweeners.